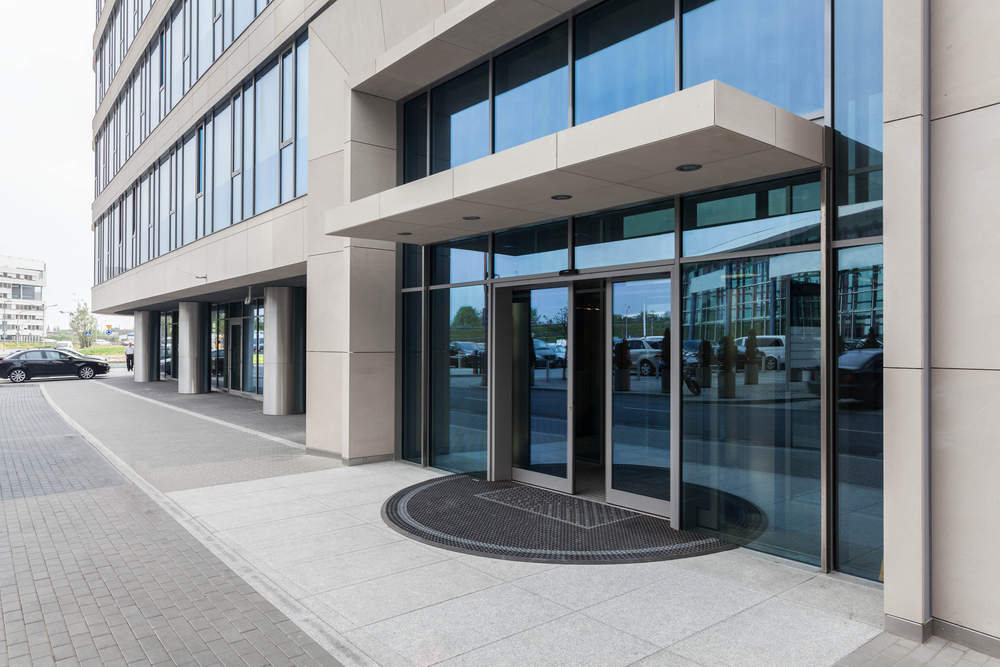 The primary entrance to any business or commercial property is the first opportunity to make a positive impression on your customers and visitors. Attractive landscaping, innovative signage and branding, and neat building facades can all help to entice the interest of patrons entering your business. However, the actual entry point into your business acts as the first opportunity to help convert the curious shopper into a sale. 
Many businesses have long relied on vestibules as the primary point of entry into their building. A vestibule acts as a small foyer leading into the main space such as a lobby. When designed correctly, a vestibule can improve the energy efficiency of a building by reducing heat loss, which is one of the reasons that many building codes have required a vestibule for commercial construction. However, there are also a number of drawbacks to using vestibules as part of the design of your business entranceways. Below, we examine a few of the disadvantages associated with vestibules and explain why air curtains can act as an effective and beneficial replacement for the more common vestibule. 
Air Curtains are a Better Use of Available Square Footage
For most small and medium-sized businesses, figuring out how much retail space you need is an essential first step in designing your business. Smaller retail spaces might lead to cluttered and disorderly interiors that can have a negative effect on your customers purchasing habits. Obviously, the larger the retail space you require, the more you can expect to pay on renting, leasing, or purchasing a commercial property. 
According to the Initiative for a Competitive Inner City (ICIC), "in cities across the U.S., rising commercial rents are threatening the viability of local, independently-owned businesses. Mom and pop shops are being priced out by national chains. Residential developers in search of a large-scale housing opportunity are pressuring the industry to relocate." 
In urban areas around the country, retail lease rates are on the rise, increasing by anywhere from 16 to 22 percent. Given the steeper rental and leasing rates, many businesses are opting for smaller retail spaces to reduce their operating costs. Unfortunately, large vestibules can often take up important square footage of smaller retail spaces, limiting the amount of useful and valuable interior space for a business to operate. 
Many innovative business owners are finding ways to repurpose the significant square footage of entranceway vestibules for more productive uses. Using an air curtain on the main entranceway of a business can allow a business to retrofit existing vestibules in order to drastically increase the square footage for their business without sacrificing the comfort of your customers. 
Furthermore, air curtains are significantly less expensive to install than a vestibule. Full-sized vestibules will most likely cost your business anywhere between $20,000 and $60,000. An effective and high-performance air curtain, on the other hand, will most likely cost well under $10,000 including installation. Air Door Distributors offers a huge variety of the most energy-efficient and practical air curtains on the market.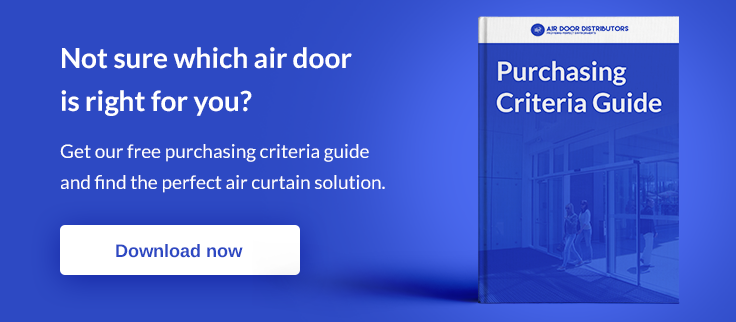 Increased Energy Efficiency
The use of an air curtain instead of a more traditional vestibule can also actually improve the energy efficiency and thermal performance of your business. Energy bills are often a major expense for small and medium-sized business owners. Every time a customer opens the door to walk into your business, a part of that expensively conditioned interior air is lost to the outside environment. This is why building codes have traditionally required vestibules on the main entranceways of commercial properties. 
However, recent studies have shown that air curtains or air doors are actually more efficient at reducing unwanted heat loss or heat gain in commercial properties. The Air Movement and Control Association International, Inc. found that medium-sized office buildings could expect to see an average annual energy savings of between 1,146 kWh and 18,986 kWh by switching to an air curtain instead of a more traditional vestibule. 
Air curtains work by forcing a controlled stream of air that is directed across the full width and height of an opening, generally the main entranceway to a business. This stream of air effectively creates an energy-saving air seal that divides the conditioned interior environment from the unconditioned outside climate.
Not only do air doors lead to sizeable energy savings, but they can also be designed to work almost silently. The unhindered flow of foot traffic into the main entranceway of your business is an additional benefit for both offices and commercial properties. At the same time, maintaining open doors allows casual customers and "window shoppers" to see what your business offers while improving the energy efficiency of your building. 
What do Building Codes Say?
In the past, commercial buildings were required by government-mandated building codes to install vestibules on primary entrance doors leading to and from spaces greater than or equal to 3,000 square feet (298 m2). However, just last year, the American Society of Heating, Refrigerating and Air-Conditioning Engineers (ASHRAE) updated their energy code standards to allow air curtains as a replacement an alternative for vestibules. 
According to one leading industry website "doorway air curtains were approved June 25 as alternatives to vestibules on most commercial building entries in the upcoming ASHRAE Standard 90.1-2019, Energy Standard for Buildings Except Low Rise Residential Buildings. The professional association's approved addition requires that the air curtain performance be tested in accordance with ANSI/AMCA Standard 220 to ensure it provides a minimum of 400-ft/min. airstream velocity at the floor." 
This new ASHRAE standard allows businesses of all sizes to incorporate air curtain technology as a way to save on energy expenses while also avoiding the often-prohibitive costs of building a separate vestibule entrance. At the same time, air curtains can also play an important role in protecting the health of customers and employees during the current COVID-19 pandemic. Air curtain technology can protect business interiors from outdoor air, exhaust fumes, flying insects, wind and dust, and other common air contaminants. Furthermore, the best air curtains today are implementing needlepoint bipolar ionization (NPBI) technology, which can be effective at neutralizing bacteria and viruses.