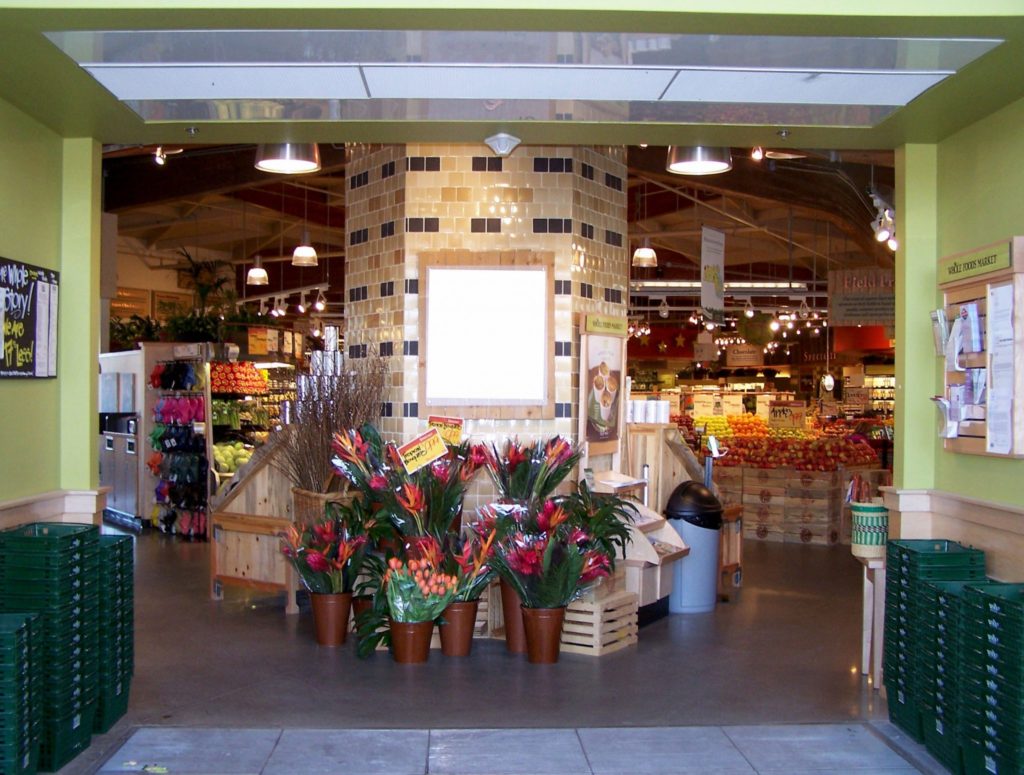 What if you could drastically reduce your business energy bills, improve the comfort of your employees and patrons, and protect people inside your building from outside contaminants with a device that is almost completely hidden from sight? Business owners and managers understand that a comfortable and pleasing interior atmosphere is absolutely necessary to keep customers happy. If the inside of a business is too hot or cold, too noisy, or contaminated with dust, insects, or other airborne contaminants, many people will think twice before returning to that store in the future. 
For that reason, hundreds of thousands of business owners across the country have invested enormous sums of money in installing large, expensive, and space-consuming vestibules at the front entrance of their businesses. While vestibules can certainly help save on heat transfer that leads to rising energy bills, they are not a practical alternative for businesses with a limited amount of square footage. 
Just last year, the American Society of Heating, Refrigerating and Air-Conditioning Engineers (ASHRAE) updated their energy code standards to allow air curtains as a replacement an alternative for vestibules. Despite the fact that businesses across the country can now avoid the expensive cost of vestibule construction, some people continue to be worried about the appearance of air curtains at the entranceway of their business. Fortunately, the leading air curtain manufacturers and distributors have come up with resourceful and effective ways to almost completely conceal air curtains and air doors. 
Benefits of an Air Curtain for Your Business
A recent study published by the Air Movement and Control Association International (AMCA) found that "compared to the vestibule door, the air curtain door can save 0.3% ~ 2.2% energy for zone 3 ~ 8, corresponding to 1146 kWh ~ 18986 kWh. Better performance will be achieved for colder climate." Furthermore, a study in Europe determined that high-efficiency air curtains lead to 30% energy savings for small and medium-sized businesses, with businesses in larger buildings expecting to see even further energy savings. 
Air curtains or air doors work by creating a stream of forced air in a downward direction over a doorway or other entry point to a building. The forced air creates an invisible barrier that essentially separates the conditioned interior air of the building from the unconditioned outside environment. This invisible "curtain" helps to control temperatures by preventing hot or cold air from entering a doorway or building at an opening. 
Besides reducing heating and cooling bills, other benefits associated with air curtains include: 
Protection from flying insects

: The invisible barrier created by an air curtain stops flying insects such as mosquitoes from entering your business every time the door is opened. 

Improved Indoor Air Quality

: Air curtains also stop outdoor contaminants from entering the interior of your business. This is especially important for businesses located near roads where exhaust fumes could be a potential source of contamination. Air curtains connected to HEPA air filters, or those that include

Ultraviolet germicidal irradiation (UVGI)

, have also been proven to help to protect people inside the walls of your store from virus strains such as tuberculosis, Listeria, Salmonella, MRSA, as well as SARS-COV (2003) which is similar to COVID-19. 
Despite these obvious benefits associated with air curtains, many business owners hesitate to install these energy-saving and air-purifying solutions because they assume that air curtains are large, bulky, and noisy contraptions that might be a deterrence to potential customers. However, the best air door distributors offers several leading products that can be almost completely concealed from sight. Today, business owners can choose to either hide an air curtain in the ceiling or even above the ceiling for a discreet, energy-saving solution. 
How to Hide an Air Curtain in the Ceiling
The first way that business owners can choose to hide or conceal an air curtain is through mounting it flush with the surface of the ceiling. This in-ceiling mounting technique, also known as recessed mounting, allows for much lower installation costs while also maintaining a very low key profile in terms of visibility. 
Recessed mounting of air curtains keeps all the parts in one unit, thus reducing installation times and costs. Though air curtains are generally extremely low maintenance, this type of concealed installation is also one of the easiest to fix should problems occur. All of the internal components of the air curtain are easily accessed from below the ceiling, generally through a hinged access panel. 
With an in-ceiling mounting, the air intake is evenly spaced to prevent entrapment of the discharge. Conditioned air is pulled from below the ceiling, thus ensuring that only conditioned air is ventilated through the air curtain. 
Though an in-ceiling mount is more visible than an above the ceiling mounting technique (which we will explain below), the flush mounting technique essentially makes the air curtains invisible to customers. The lower installation costs and easier maintenance make this option a favorite for many types of business owners. 

How to Hide and Air Curtain above the Ceiling
For business owners and managers who want to even further hide their air curtains, concealing the air door above the ceiling can be done with the combination of a high-performance air curtain and a unique nozzle extension. This six-inch extension is generally made from clear anodized aluminum and air directional vanes. 
The two main advantages that come with an above the ceiling mount are a much smaller and less noticeable footprint on the ceiling surface and a quieter operation. Because the air intake is located above the ceiling, these types of installations are generally the quietest and might be a great option for businesses that want to strictly limit noise levels in their interiors. 
On the downside, above the ceiling mounting techniques are generally more expensive to purchase and install. The multiple components, including the nozzle extension, ceiling grills, and the return air ductwork will add a little to the final price tag. Furthermore, unless your business has an insulated and conditioned attic, this type of air curtain installation will most likely pull unconditioned return air from above the ceiling. In climates with extreme cold in the winter or extreme heat in the winter, this could add to your heating or cooling bills.
All of the in-ceiling and above-ceiling air curtains sold by Air Door Distributors are AMCA certified and come with all different heat options. These air curtain technologies allow business owners to enjoy the energy efficiency benefits of an air curtain without most customers every noticing where that forced air over your front entranceway is coming from.