Gain control of your indoor climate with the use of an overhead air curtain.
Stop fighting outside temperatures and add an overhead air curtain to your brick-and-mortar.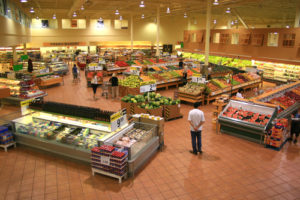 Have you ever walked into a building from the freezing cold and felt a blast of warm air? That defining line from where the cold air ends and the warm air begins is drawn by the use of an air curtain. Winter is just around the corner and businesses will soon be faced with the challenge of keeping their environment comfortable as the outside temperatures begin to plummet. While there are various options to consider when it comes to climate control, the addition of an overhead air curtain simply makes the most sense.
Why use an overhead air curtain to help with climate control?
Overhead air curtains are typically installed horizontally, across the opening of a doorway. They are uniquely designed to send a constant flow of air from an overhead space to create a seal or barrier as a means to separate two spaces from each other. This seal of separation provides many benefits to business owners and other users ranging from climate and insect control to employee and customer comfort. The most commonly used type of air curtain is an overhead air curtain. These remain extremely popular because they can be placed in just about any place of business.
Did you know?
All casinos located in Las Vegas are equipped with air curtains to increase energy savings and climate control. If you've ever been, you know that Vegas is hot but the casinos are not!
Air Curtains as an Alternative to Vestibules for Climate Control
According to Consulting-Specifying Engineering Magazine, "Air Movement and Control Association International Inc. (AMCA International) announced that the 2015 version of the International Energy Conservation Code (IECC) will contain a provision enabling air curtains to be considered as an alternative to vestibules. For compliance, air curtains have to be tested in accordance with ANSI/AMCA Standard 220, and be installed in accordance with manufacturer's instructions."
Other Benefits of Adding an Overhead Air Curtain
One of the biggest benefits to adding an overhead air curtain to your business or building is the ability to increase climate control. With climate control comes comfort for your customers and employees, but this small addition can benefit other areas of your business as well.
Comfort Control. Nobody wants to be forced to wear a coat while enjoying a nice dinner. Air curtains release a strong, engineered force of air that prevents cold air from entering and warm air from exiting. According to Total Home Supply, "depending on weather conditions, the blast of air is forced either straight down, or in the case of strong wind conditions, at a slightly outward angle." This separation will help keep customers in your establishment comfortable.
Options. Air curtains are available in both heated and unheated options, giving business owners the option to create the ideal environment. Choosing an overhead air curtain also gives business owners the opportunity to choose a product that is unseen by the masses. From color options to the Phantom Series, there are many overhead options to choose from.
Cost Control. Adding an air curtain to your overhead doors can help dramatically decrease energy costs associated with heating and cooling. By using an engineered force of air, this barrier-creating mechanism keeps unwanted air, either hot or cold, outside and helps maintain the desired air temperature inside. This helps maintain a desired temperature and keeps your air conditioner or heater from working overtime and fighting the outside temperature.
Less Expensive than Alternatives. Across the country, many building codes require business and building owners to install vestibules in their brick-and-mortars to assist with climate control, but vestibules come a hefty price tag. Air curtains, which are significantly less expensive, offer the same function and also meets many of the same qualifications. This option will save money and meet requirements that building owners are looking to meet.
Ease. When compared to alternative routes, like vestibules, that assist with climate control, overhead air doors are quite simple. After a simple consultation to ensure you are selecting the correct product, installation is done for you. From there, they work with the flip of a switch. This is much easier than undergoing the construction associated with a vestibule addition and it is significantly simpler than having to worry about adjusting the thermostat constantly when battling outdoor weather.
Are you considering adding an air door to your overhead doors? The benefits of an air curtain are great and the ability to control the interior climate of your business make this the perfect addition to any brick-and-mortar business. The experts at Air Door Distributors are waiting to assist you in determining the appropriate air curtain for your warehouse.
For more information, call today at 866-402-1642 or fill our contact form.