Table real estate is essential to the financial success of a restaurant. The more tables turned in a night, the more money the business and employees see in return. But how can you be sure those seats and tables stay full? For starters, creating a warm, welcoming environment in these chilly late winter/early spring days and nights is essential. Customers desire a place where they feel comfortable and often negatively remember restaurants where they had to wear a coat all through dinner.
The options for creating a warm, inviting space range from solutions like space heaters to expensive vestibules. While those options are not always terrible, they do have their troubles. Rather than spending large sums of money on a vestibule or placing a dangerous space heater at the entrance of your restaurant, consider the use of a heated air curtain and all of the benefits it has to offer.
Low-Profile Heated Air Curtains
So, what exactly is a low-profile heated air curtain? While it may be a mouthful to say, it's very simple to understand. An air curtain is simply a device mounted above the threshold of a door that releases an engineered stream of air in a downward motion. This air stream creates a barrier that separates two environments from each other, prevent the mingling of air contaminants, pollutants, pests and cold air with warm air. A heated air curtain is a type of air curtain that blows off a warm stream of air. Air curtains are available in many options and low-profile air curtains give restaurant owners and other businesses the ability to mount the device in a way that is unseen to the untrained eye. They are less noticeable and less intrusive and still provide the same great functions of a traditional air curtain.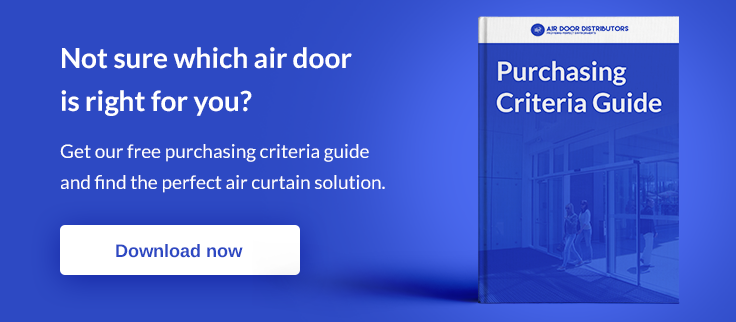 Benefits of a Low-Profile Heated Air Curtain
Create an Ideal Entrance. One of the great things about a heated air curtain is that it can bring your guests in from the freezing temperatures and into a warm, comfortable environment. There is nothing worse than freezing through an entire dinner. With a heated air curtain, your guests will find comfort the second they enter your restaurant.
Turn More Tables. We all know that more tables, results in more money. When you are able to fit your guests in a comfortable environment, they will be more likely to return.
Place Staff Closer to Entrance. With a heated air curtain blocking the cold air from entering your restaurant, restaurant owners are then able to place employees in closer proximity to the door without the guilt of them being exposed to a constant stream of cold, outside air. By placing staff closer to the door, this frees up more space to add additional tables to the valuable dining room real estate that would otherwise be taken up by a hostess stand.
Effective Functionality. Heated air curtains come in a variety of models but can offer restaurants a unique edge with the low-profile models. These models are specifically created to be nearly unseen and extremely quiet, yet highly effective at the same time.
Cost Effective. One of the biggest benefits to adding an air curtain is that they can often be a huge money-saver for restaurants. The unique ability that air curtains have to create an invisible barrier between two environments that allows restaurant owners to be in complete control of the temperatures inside the restaurant. When cold air mixes with warm air, it forces unwanted temperature changes, thus making your air conditioning and heating units work in overdrive. By keeping these environments separate and you in control, your energy usage will decrease and the end result will reflect in your energy bill.
Other Heating Solutions
Most restaurants look for a way to maintain a heated entrance. The alternative to a heated air curtain is typically a vestibule. Vestibules often range anywhere from $20,000 to $50,000; which is significantly higher than the cost of a heated air curtain. The typical low-profile air curtain can be purchased for around $1,500, which is a huge savings when compared to the next best alternative.
Are you looking for a way to warm up the entrance to your restaurant? A low-profile, heated air curtain can create that desired setting you've been searching for. The experts at Air Door Distributors are ready to assist you in determining the appropriate air curtain for your specific business and needs. Call today at 866-402-1642, click for a live chat or simply fill out our contact form and we will get you the air curtain to best fit your needs.