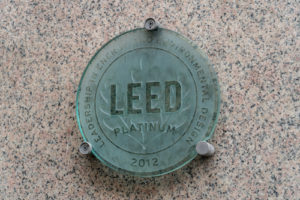 During the development of any building, great care goes into many different parts of the process. From structural stability to ready-made subdivisions for prospective tenants, it's important to consider every aspect of the building's intended use after construction concludes. Therefore, the design and engineering phase is the perfect opportunity to evaluate the building's potential for energy efficiency in the future. Not only can it sometimes help to unlock access to state-level financial incentives for efficiency, but it also serves as an attracting selling point to buyers or future tenants.
Among the energy efficiency schemes out there, one of the largest and most well-known is known as LEED certification. Based on a system of points, the more a building accumulates during construction, the higher the building's final rating. This rating can be an important measure for understanding a structure's energy consumption and its potential footprint regarding environmental impact. What do you need to know about LEED, and how can designing the building to include built-in air curtains help your building garner more points?
What is LEED?
LEED stands for "Leadership in Energy and Environmental Design," and it was developed by the non-profit U.S. Green Building Council to encourage builders to think proactively about making choices that reduce the building's impact. It often includes taking measures to facilitate more efficient water usage, better indoor air quality, and of course making reductions in energy consumption. Some LEED categories even focus on proximity to public transportation and other factors not directly linked to the building process itself.
Structures earn points based on how efficient they are and which criteria they satisfy, which then leads to a four-tier system of certifications, which works as follows:
0-39 points: No certification
40-49 points: LEED Certified
50-59 points: LEED Silver
60-79 points: LEED Gold
80+ points: LEED Platinum
In an age of increasing environmental consciousness, showcasing a building's LEED certification can have positive effects far down the road. Not only is operating the building less expensive and more beneficial for tenants, but the certification itself can be a badge of honor for the owner of the building. That ultimately increases its value and improves its standing as an investment further down the road. One important thing to note, though: you cannot become LEED certified for an existing building.
How Air Curtains Help Contribute to Certification
LEED standards do not, on their own, provide for the accumulation of points as a direct result of installing air curtains in your building. However, leading air curtain manufacturers point out that they can be an essential tool in achieving energy efficiency targets in other LEED categories. In (one Berner case study), a massive convention hall was able to meet its LEED targets in part thanks to air curtains installed over large-scale exterior exits.
Air curtains use a focused stream of air to divide interior and exterior spaces, creating a strong barrier that reduces the amount of air that can enter a space from outdoors and vice versa. Just as vestibules help to keep the main entrance to a building from being a major source of heating and cooling inefficiency, air curtains over additional exits and entrances put a stop to unnecessary temperature variations. Additionally, the stream of air also keeps out exterior dust and debris, which in turn contributes to better indoor air quality.
Thanks to these attributes, air doors are an effective way to contribute to the overall efficiency of a space. By improving the performance of other systems while preventing large-scale air loss, you can move one step closer to LEED certification.
Choosing an Air Curtain for Better Energy Efficiency
Because certification cannot occur once construction on a building is over, it is important to consider what air curtains can offer your structure in as early a stage as possible. The primary challenge is twofold: where to place air curtains, and how many you will need. In some cases, air curtains can replace vestibules entirely in the design, saving space and budgetary space. In others, the best solution for minimizing air loss will be a combination of air curtains and vestibules. The size and strength of the air curtains you select will matter, too.
All this equates to a lot of decision making. Just as with other portions of the design process, seeking outside advice from industry experts is the path to take towards solutions. At Air Door Distributors, our years of experience have allowed us to play a role in many projects both large and small. Backed up by a deep product catalogue filled out by hardware from leading air curtain manufacturers such as Mars Air Systems and Berner, we can assist you in determining the best way to proceed with LEED certification in mind. To begin that process now, please contact us online or give us a call at 866-402-1642.