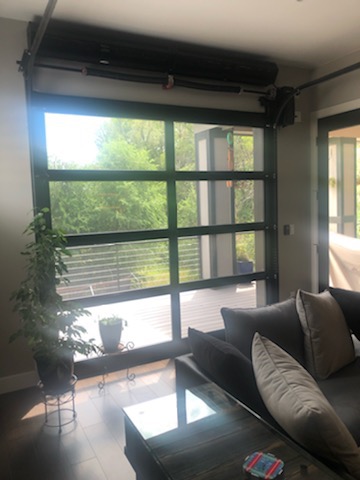 Air curtains are one of the hottest trends in home improvement. There are a number of benefits that air curtains have. Homeowners should be taking advantage of them and improving the value of your home as well as saving you money and headaches. It can be intimidating to even know where to start when looking for an air curtain. 
The experts at Air Door Distributors can walk you through exactly where you should install an air curtain in your home. They can also answer any questions about what type of air curtain you should use for your specific needs. 
It might be useful to understand how an air curtain functions before jumping into the exact benefits. 
How it Works
Air curtains are installed above openings in buildings. For commercial buildings that can range anywhere from a walk-in freezer to a garage door. But for your home, you will most likely be installing an air curtain above a large window or door. Once the air curtain is properly installed and hooked up it can begin to work for your home's benefit. 
There is a sensor that will trigger the air curtain to turn on whenever the door or window is opened. When that happens, the air curtain will pull air from around it and accelerate the air rapidly via a fan unit. The accelerated air will then shoot downwards or at a slight angle out of the air curtain. This will create a wall of air that will keep the environment in your home more stable. 
Now that we understand how air curtains function, let's jump into all the potential benefits your home can take advantage of. 
Air Curtain Benefits
Benefit 1: Keeping the Flying Insects Out
Everyone wants to enjoy those summer breezes in the night and let the sunshine in during the day. The issue is with keeping those doors and windows open during the summer is insects. If your home has a door or window open all the time, insects will take interpret that as an open invitation to come right into your home. An air curtain is a perfect solution to this problem. 
During a family gathering or party, your doors will be constantly opening and closing. Insects can ruin the food by crawling all over it. The air curtain will stop the insects from infiltrating your home and ruining your day. The force of the wind will send insects flying away from the openings in your home. Your guests will be so grateful that you had an air curtain installed. 
Keeping flying insects out of your house is not the only benefit your house will get out of an air curtain. Energy costs can be significantly reduced if an air curtain is installed in the right place in your home.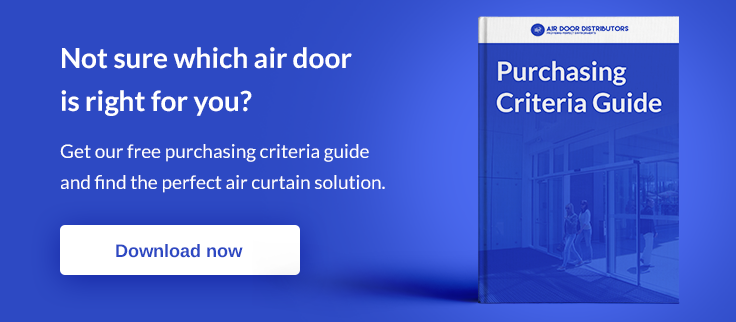 Benefit 2: Energy Savings
Air curtains are fantastic at reducing energy costs for homes. If you live in a warm-weather climate, such as Florida or Arizona, you know that you can spend several hundred dollars a month trying to cool down your home in the summer months. An air curtain can drastically change all of that. 
The cold air escaping your house will meet the wall of air that the air curtain shoots out. This will help prevent the cold air from escaping your house. For those cold winter months, there are actually heated air curtains that will keep your home warm and toasty. Instead of a normal air curtain, the heated air curtain has a gas burner that heats up the air before it exits the air curtain. I'm sure there were many homeowners in the Northeast who wished they had an air curtain during the Polar Vortex. An air curtain could have saved a lot of headaches and money for homeowners had they installed an air curtain. 
Air curtains for residential homes can be as little as $200, depending on how large the opening is. After installation fees, your home will certainly see a return on investment in as little as one year. After a few years your investment will have saved you hundreds or even thousands of dollars. 
Benefit 3: Prevent Dust from Entering Your Home
>Many times we leave patio sliding doors open during summer months with the hustle and bustle of kids, dogs, and family members constantly in and out bringing in dust. Air Curtains create a flow of continuous air keeping dust from even entering those large patio openings creating a cleaner environment.
Benefit 4: Prevent Fumes from entering your home.
While leaving patio doors open, we experience annoying fumes from neighbors burning vegetation, cigarettes, and smoky bar-b-ques. Using an air door will stop the infiltration of fumes keeping your home fume free.
Benefit 5: Stop odors from entering your home.
Many times we cannot control the outdoor odors that are emitted into the air by neighbors or our environment. Air Curtains can reduce odors from entering your home with a gentle flow of air over your patio doors.
Benefit 6: Prevent obstructed view and passageway to the outside.
More and More we are seeing homeowners open up their homes to the outside with nanowalls, large patio sliding doors, french doors, and standard sliding doors. If you like to entertain or simply like to have an obstructed view and passageway to the outside, air curtains provide a great way to create this effect while creating an invisible barrier to the outside. Not only does it create more safety, it so efficient!
Benefit 7: Obtain LEED Points towards a net-zero home
We continue to hear about green energy and become "net zero", air curtains create a seamless gentle quiet flow of air over your patio doors saving huge amounts of energy loss making them a green product. Air curtains/air doors are highly engineered and revered by many in the heating & cooling industry. Be a leader in energy conversation inside your own home!
Call or email Air Door Distributors to find the perfect air curtain for your home. Air Door Distributors has a huge selection of air curtains that will meet any household's needs. We can talk you through the process and find an air curtain that will save you energy and keep insects on the outside where they belong.