For years industries with hazardous locations that wanted air curtains also known as fly fans had to have them custom manufactured. Air curtain manufacturers did not offer standard air curtains for hazard location applications. This was a huge barrier to companies that were looking for air curtains as custom manufactured air curtains are much more expensive that standard air curtains.
Recent advances in air curtain technology have allowed for the creation of standard lines of hazard location air curtains. Petroleum refineries, food processing and pharmaceutical plants, chemical facilities, and more all have hazardous locations. They can now take advantage of hazardous location air curtains that will improve their plant performance.
Most plants are going to be uninformed on air curtains. They may not understand how air curtains can benefit them as well as where to place them, how to install them, how to maintain them, and more. Air Door Distributors is the go-to expert in all things air curtains. The experts at Air Door Distributors can talk your plant HVAC team through all of the steps that go into installing an air curtain. From initial questions all the way to post-installation maintenance.  
It may be helpful to understand the difference between a hazardous location and a normal air curtain before discussing exactly how air curtains can improve plant performance. 
Difference Between Hazardous Location and Normal Air Curtains
Let's define what a hazardous location is before we jump into the differences between the air curtains. OSHA defines a hazardous as the following: "Hazardous locations are areas where flammable liquids, gases or vapors or combustible dusts exist in sufficient quantities to produce an explosion or fire." 
Typical air curtains could have electric motors that cause a spark, ferrous metals, and electrical connections that can cause arcing. These threats can have drastic consequences in a plant environment that can threaten the plant and all of its personnel. Hazardous location air curtains have a few key differences because of these reasons. 
Hazard location air curtains feature explosion-proof electric motors, proper electrical components, as well as fans that will not produce sparks. All of these features ensure that air curtains are safe to operate in a hazardous environment. 
Now that we understand the key differences between the two types of air curtains let's talk about what they can do for your plant performance.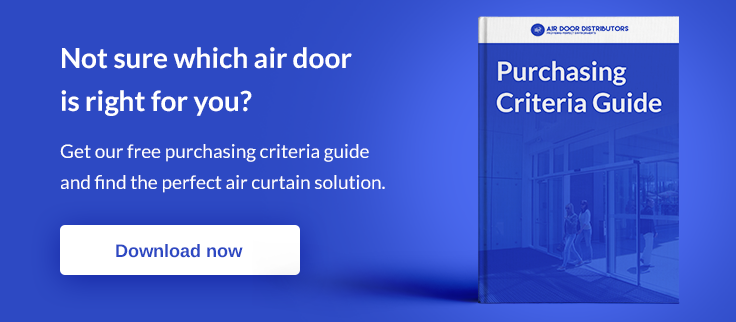 Benefits of Hazardous Location Air Curtains
Cost Savings
One of the main reasons that businesses purchase air curtains is to save costs. Air curtains help large plants regulate their temperatures. As one can imagine, the heating and cooling costs for these massive plants are incredibly high. Air curtains positioned in the proper locations can save your plant thousands of dollars in heating and cooling costs each year. Most hazardous location air curtains will pay themselves off in just a few years. 
More Consistent Manufacturing
Controlling the temperature and keeping insects out of the plant will help any manufacturer create a more consistent product. Production plants are massive operations with millions of variables. Air curtains can help plants control more variables. This will lead to a more stable production line. 
Keeping bugs out of food plants is an extremely difficult task, but air curtains can significantly reduce the number of bugs present. Insects will be sent flying by the air force the air curtain produces. Customers will be thrilled to hear that their are less bugs present in their food. 
Improve Safety
Employee safety will also improve with a hazardous location air curtain. Temperature differences in parts of the plant can lead to condensation on the ground. This hazard can cost employers valuable employees who will need time off for their injuries. Air curtains will negate the temperature difference, which is why the condensation appears in the first place.  
Toxic fumes can be a concern for many plants. Air curtains can mitigate the spread of toxic fumes in certain parts of the plant. In an emergency situation, air curtains can actually protect public health as well, by preventing the spread of toxic fumes to the outside. 
Call or email Air Door Distributors today to learn more about how hazardous location air curtains can improve your plant performance. Air Door Distributors has the best experts in the industry and can find the perfect air curtain for your plant.